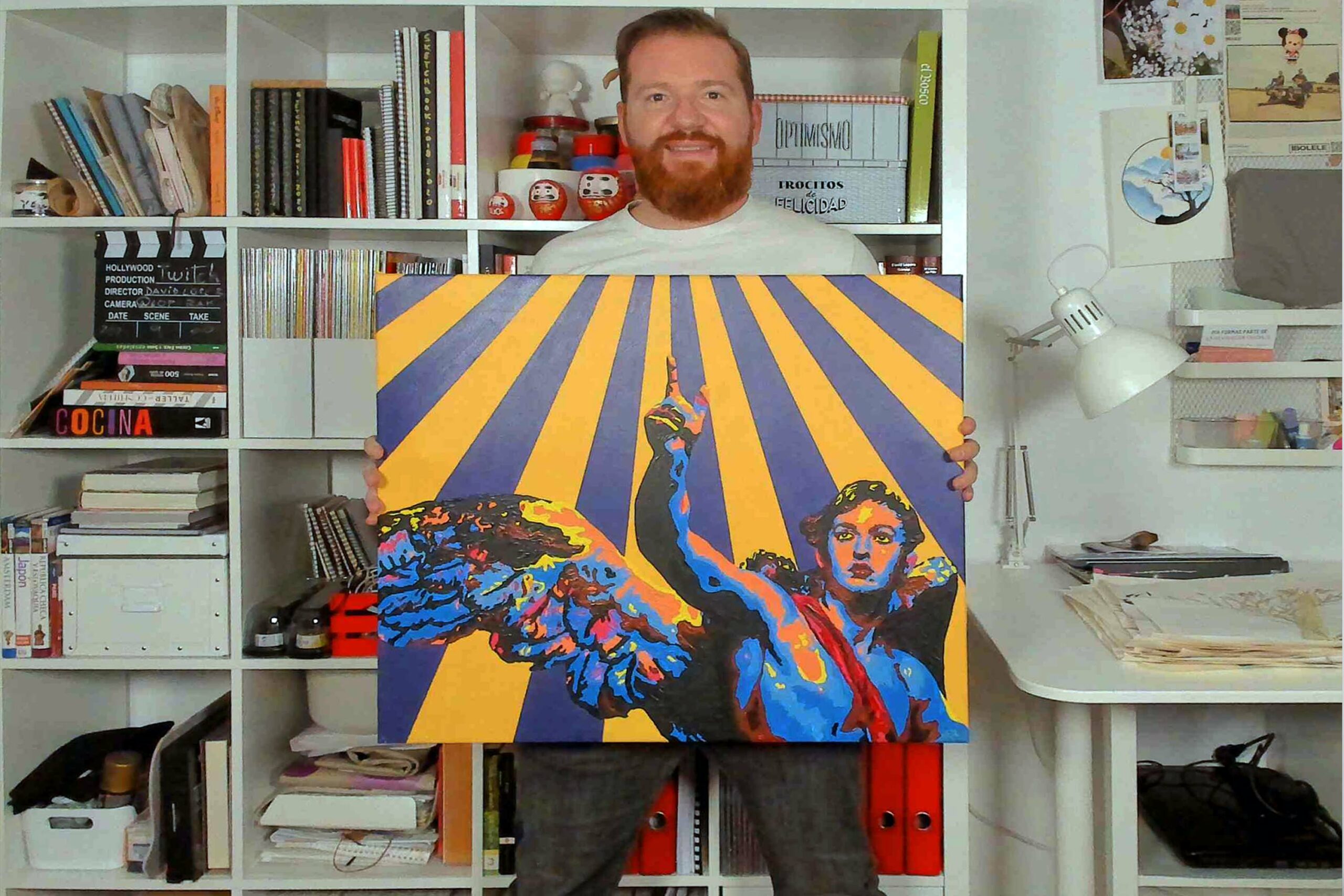 I'm David Lopera Gómez, visual artist and illustrator known in social networks as Loperakun. I consider my eclectic style to be a result of my passion for exploring techniques and styles, influenced by my love for fantasy, science fiction, surrealism, horror art, manga, and sumi-e.
Going from digital to traditional techniques is something natural for me, the mixture of both is present in my work. In my style the line is very present, a tool that gives shape to my ideas, being the figurative drawing the base of my art. My work is focused on the creation and sale of originals and prints available in my online shop. Always open to collaborations or commissions if they are interesting and I can bring my own style and ideas.
I have extensive experience in business management, advice, training, guidance to entrepreneurs and project creation, as well as in image design for social networks, marketing and digital media. Degree in Law, Master in Human Resources, PhD in Labour Sciences, Master in Teaching, specialising in Drawing. Currently studying a Degree in Arts to continue improving and growing as an artist.
My vision is for people to become aware of their need to live in art, recognising its power to heal, transform and connect us to our deepest essence, devoid of ultimist purposes to act in the naturalness of the now.
Honesty: I value transparency in all my interactions, being sincere in my work and in my dealings with clients.
Quality: I strive to offer high-quality artworks and services. This includes aesthetic excellence in my creations, as well as professional and reliable treatment towards my clients.
Innovation: I draw inspiration from experimentation, research, and artistic evolution. I employ mixed media techniques and explore the potential of digital art while honoring the roots of traditional art.
Spirituality: I value the connection with my inner self and seek tranquility and mental well-being through the fine arts. I embrace a Zen philosophy, reflected in my work and the emotional impact I aspire to convey, resulting in both serene and dynamic, powerful pieces that allow for the release of various emotions and feelings.
Social responsibility: I am committed to social responsibility in all my actions. This entails utilizing print-on-demand methods to minimize environmental impact and continually seeking both reuse and the use of non-harmful materials.
I'm an award winning artist based in Murcia, Spain. I have also done art exhibitions with other artists. More projects on the way!
SUPERHEROES. NEW LOOKS
Textile art group exposition exhibited at:
Atrio del Mar Hotel, Los Alcázares, Murcia, Spain. 2023.
San Javier Museum, Murcia, Spain. 2023.
Las Clarisas Museum of Elche, Valencia, Spain. 2023.
Footwear Museum "José María Amat Amer" of Elda, Valencia, Spain. 2023.
Seahorses
International, supportive and collaborative installation exhibited at Los Alcázares, Murcia, Spain. 2022.
Art4Freedom gallery
Guest artwork exhibited at www.all4freedom.com 2020.
IV Contest of Graphic Humor Santomera
Best Regional Artwork. 2009.